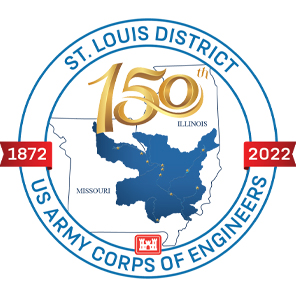 US Army Corps of Engineers St. Louis
1222 Spruce St, St. Louis, Missouri, 63103
Two centuries ago, the Mississippi River strategically sat at the eastern edge of a primarily unexplored frontier. The river's main purpose was to serve as the highway and lifeline of competing empires. The "Mighty Mississippi" is an indispensable and balanced multi-faceted resource that supports a tremendous sphere of uses, ranging from navigation to recreation. With its network of locks and dams, channel improvement structures, abundance of wetlands, and diversity of wildlife habitat, the majestic river is a nationally significant ecosystem and commercial navigation system. The St. Louis District was officially established in 1872. However, our roots date back to 1837, when Lieutenant Robert Lee, a recent graduate of the United States Military Academy at West Point, was assigned to St. Louis by Congress to study navigation-related harbor problems. The mission of the St. Louis District expanded during the early twentieth century when Congress recognized the integral relationship between navigation and flood control on the nation's inland waterways. That realization ultimately led to the passage of the Flood Control Act of 1936. That act officially added flood control to the mission statement of the Corps of Engineers. Today, the St. Louis District accomplishes an array of navigation, flood control, and environmental restoration projects.
Login to be able to participate
Students must use UPRM credentials to access Virtual Booths, Webinars, and Activities​. Recruiters and staff, use the credentials provided by UPRM Placement Office.
No virtual booths available.